I finally did it… finally after saying I would write this for years. Here is my personal guide to everything to do in Maui! I would say literally in the last 4+ weeks or so I've wrote some version of this in one form or the other on peoples facebook walls and/or emails so here it is! Enjoy everyone!
We first went to Maui back in 2006! It was for a friends wedding (Winf & Lety) and we both hadn't been there in ages! We really didn't know what to expect but had lots of people recommending one particular book to us, Maui Revealed. This book definitely is a great buy for anyone who is going to go to Maui for the first time as it literally has just about everything in the book that you could ask for in a guidebook! Definitely pick one up, even if it's just for a backup!
Maui, is hands down our favorite island in Hawaii to vacation on. It's got that nice blend of "things to do" but also doesn't have that "big city/touristy" feel to it. It's really the best of both worlds. For those that like to have places to dine, but also the serenity of the islands, this is the place for you!
Before I jump into the different parts of the island, let's go over a quick layout of the land. (see map below)
The island, to me, is broken up really into 5 chunks. OGG (airport), Wailea, Lahaina/Ka'anapali, and Kapalua and Paia. I know, I know, there is SOO much more to Maui and yes I may be doing a disservice to the rest of the island but hey! If you don't agree, then feel free to skip this post 🙂
Once you get your car rental (which I highly advise you get rent a car), you'll likely head down to to the other parts of the island that I listed above. Let's go through each of these sections now!
The airport is where you will first arrive when coming to the island (obviously) and its pretty much on the upper middle left side of the island, where the dip is (Kahului). There's really not that much to do there around the airport, but it does have some good eats around the airport if you are super hungry. I definitely recommend going to Da Kitchen for some good grub when you get there or are leaving the island!
Note to friends: Order ahead at Da Kitchen and pick up the food togo! There's always a line there it seems!
Kapalua
On our first trip out to the Maui, we actually stayed mostly in Kapalua, at the Ritz Carlton hotel! It's a beautiful hotel with a nice multi layered infinity pool. Kapalua is also home to one of the more well known golf courses on the islands! Kapalua used to be the first tournament at the start of the PGA season. So all you golfers out there, make sure you hit it up!
To be honest, Kapalua is probably where like the least out of of all the places we have stayed so far. Don't get me wrong, it's beautiful out there, but Kapalua is also known to be a bit cloudier and cooler than the rest of the islands. And we like it HOT! It's also a bit farther from everything including restaurants etc, so you have to do a lot more driving to get to places! You'll likely be staying put at the resort for most of the time (not a bad thing) and just soaking up the rays.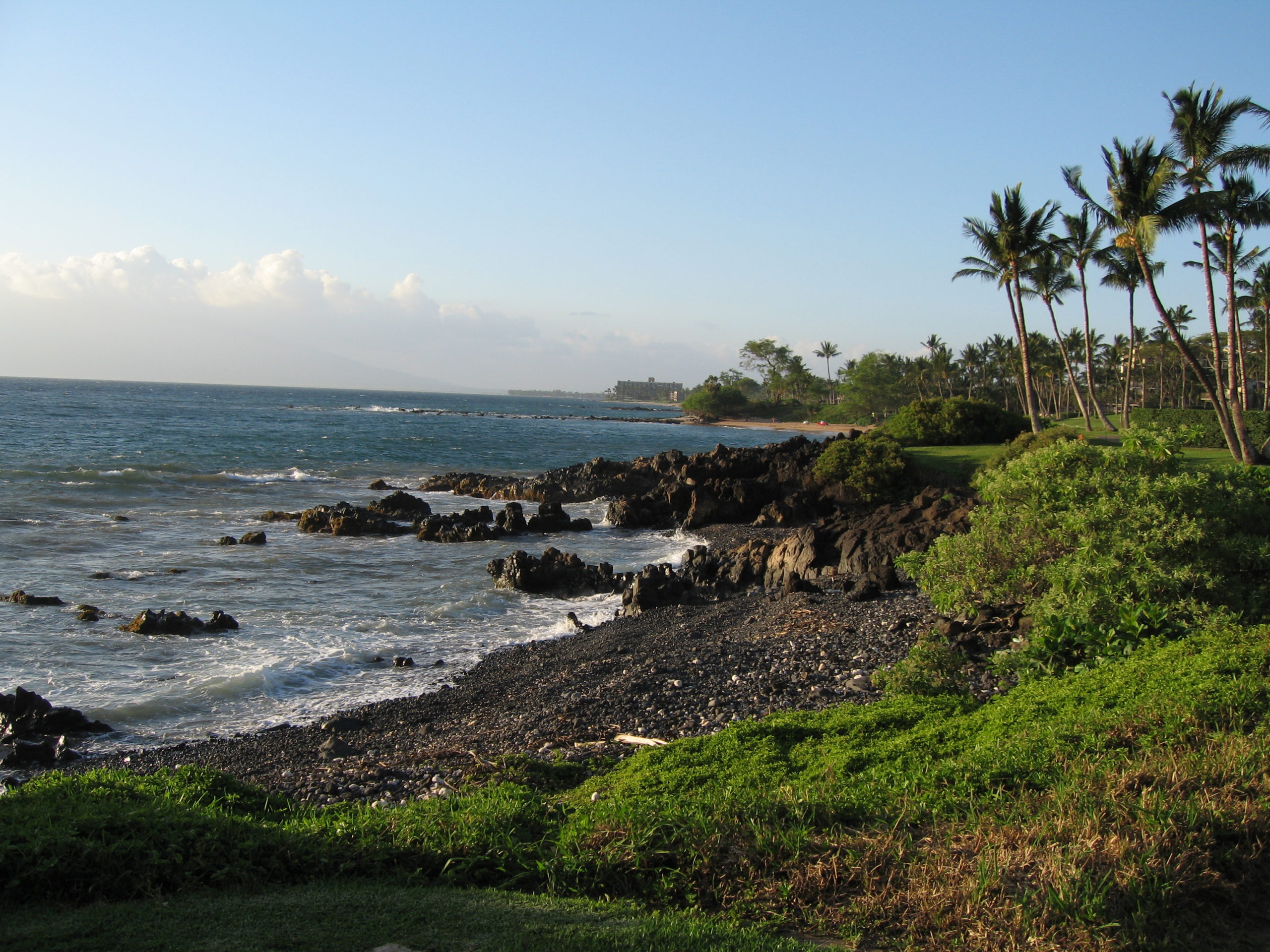 Regardless though, we still thoroughly enjoyed ourselves there! I managed to get in a round of golf the first time we went out there and man, the course was hard!! It was my first real taste of golfing out in hawaii! I rented my clubs of course and got up super early and remember getting paired up with this Oil tycoon from like Texas or something! Was pretty interesting, haha. Take a look at some of the photos I took during that round! (pre-iphone days!)
(yes, this was a shot that we had to take over a ravine)
Some pretty amazing views!
We also did a boat tour when we were out there, but really I cannot remember what tour we took! I do recommend it though! If you are lucky you will see some wildlife out there and some turtles!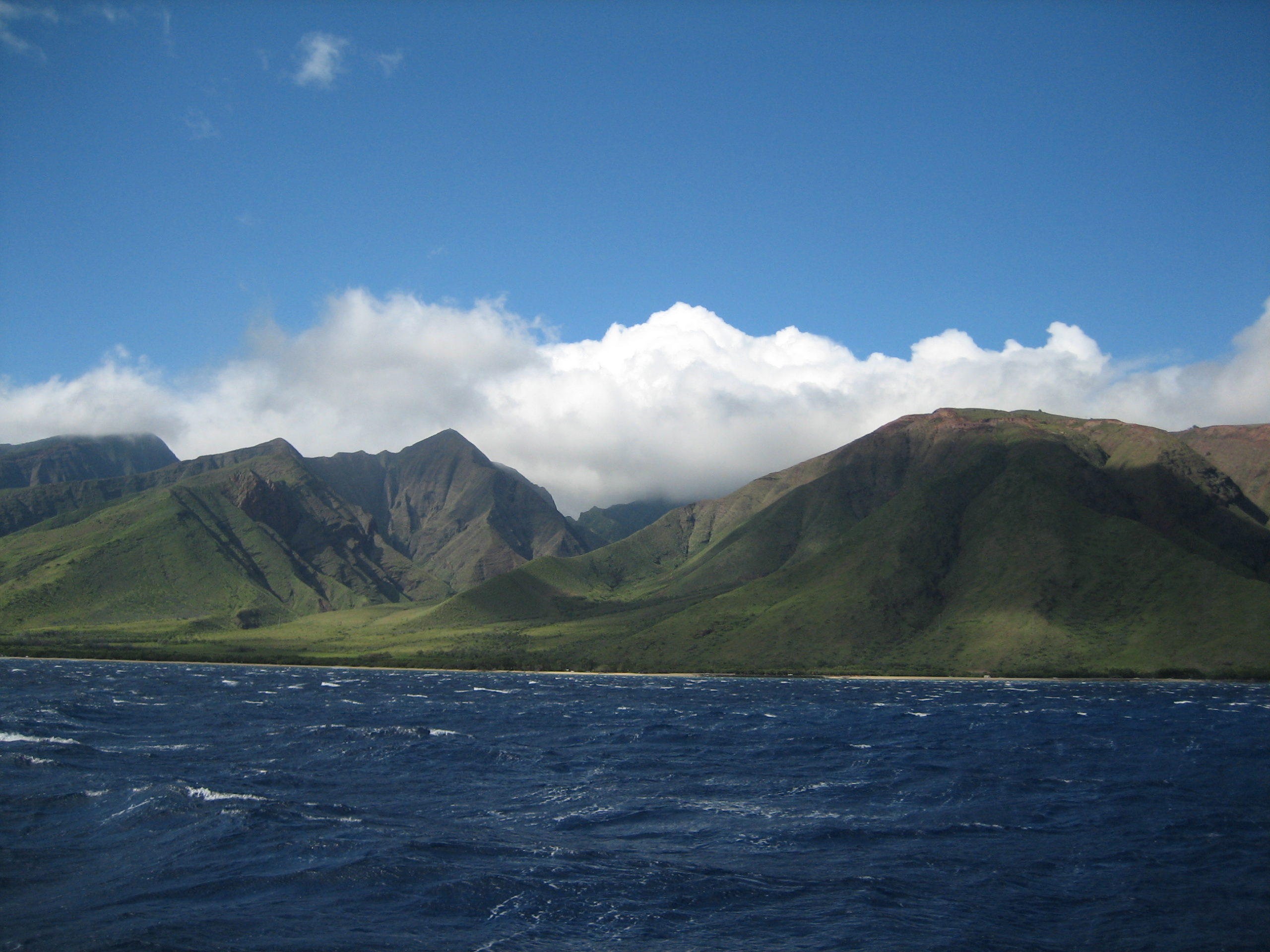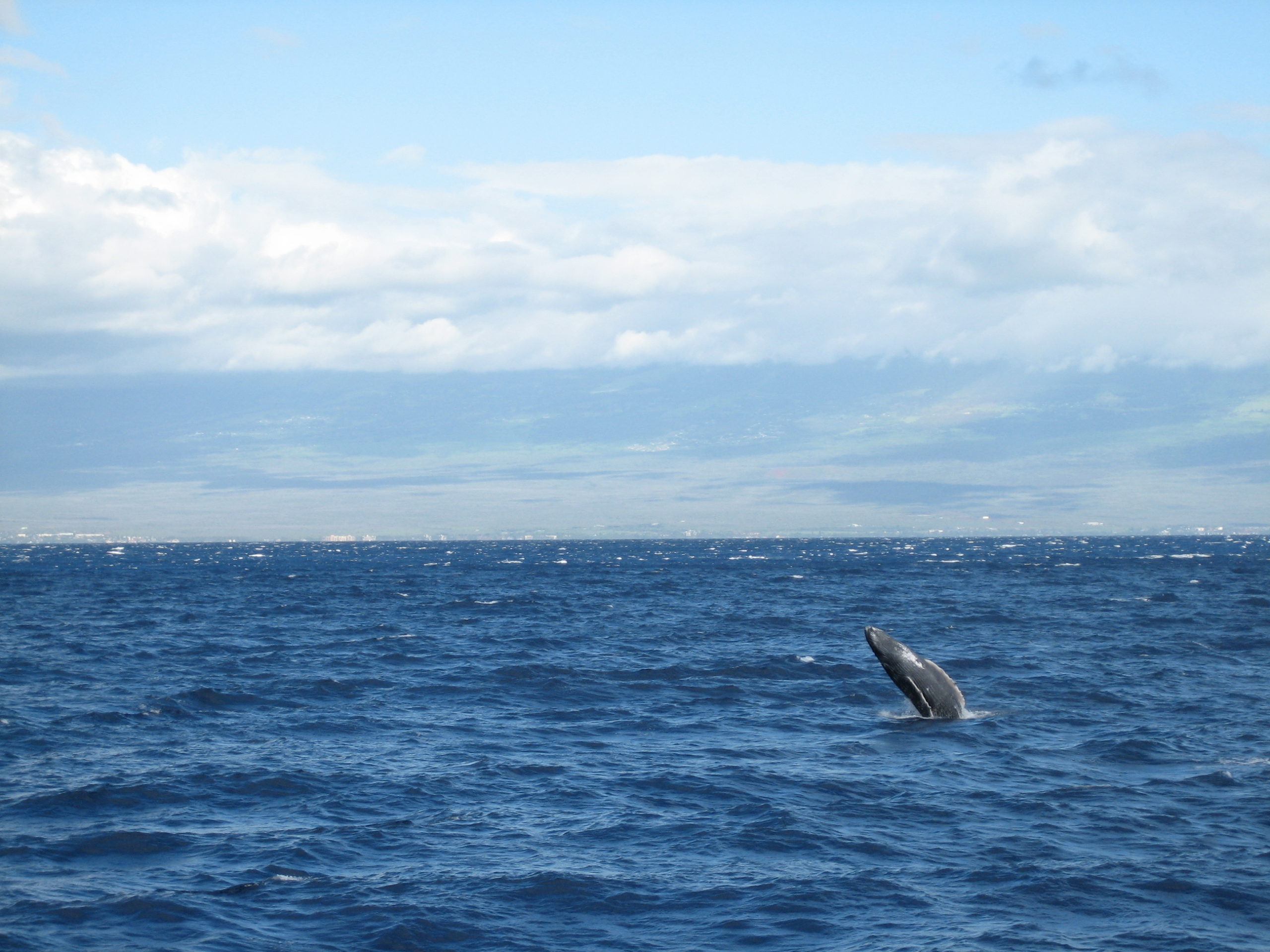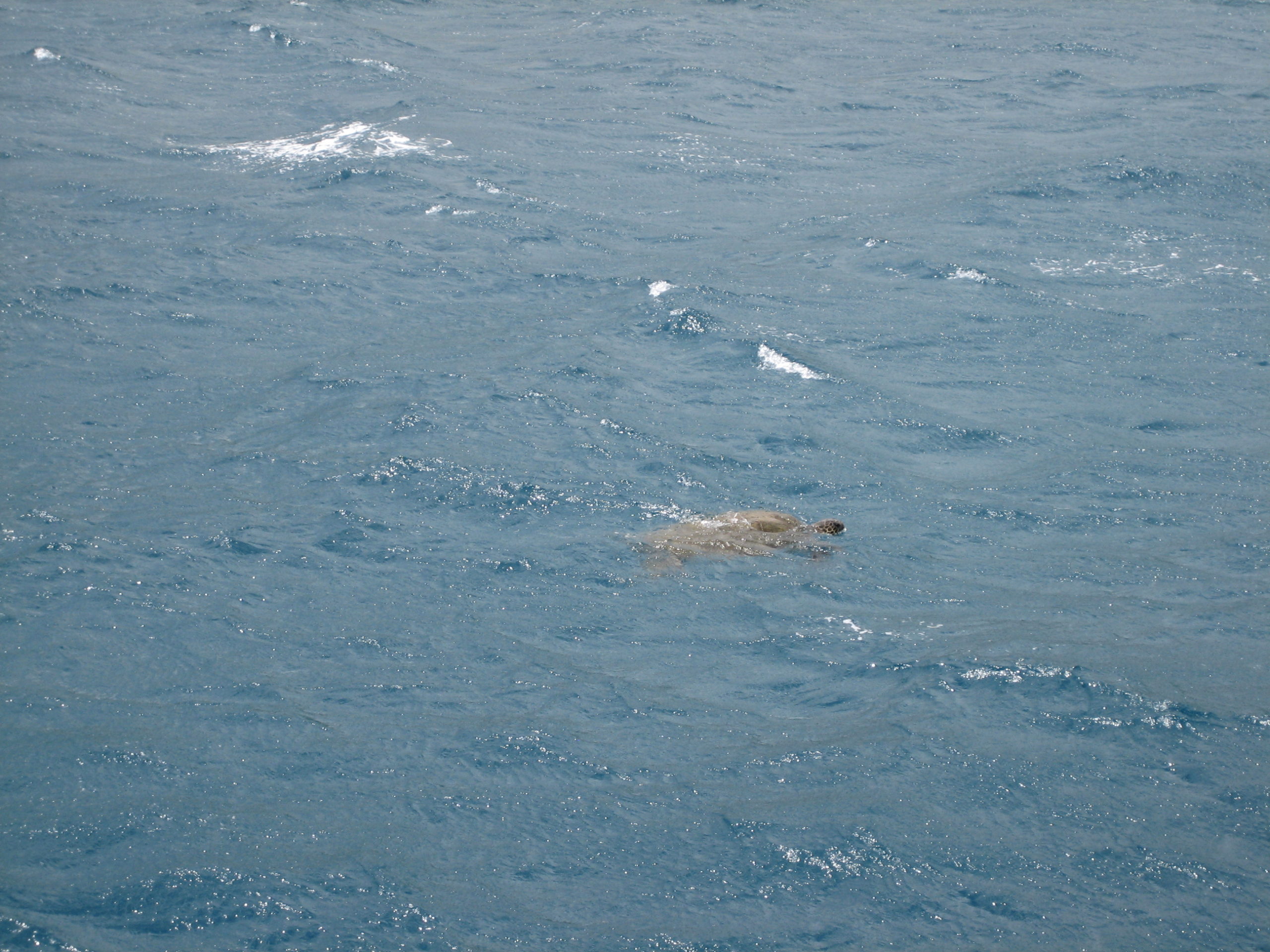 (Hello mr. turtle!)
On this first trip of ours, we also did the famous "Road To Hana". Something that I do think all of you firs timers should go to. But it's not for the faint of heart! You either need to rent a jeep or some 4×4 or take a tour on a bus. But if you get car sick easily be careful! Don't say I didn't warn you! The Road to Hana, is pretty awesome though, its where you will really get to see a part of what really makes Hawaii so amazing! You'll get to stop at all sorts of pit stops where you will see lots of waterfalls and hidden beaches!!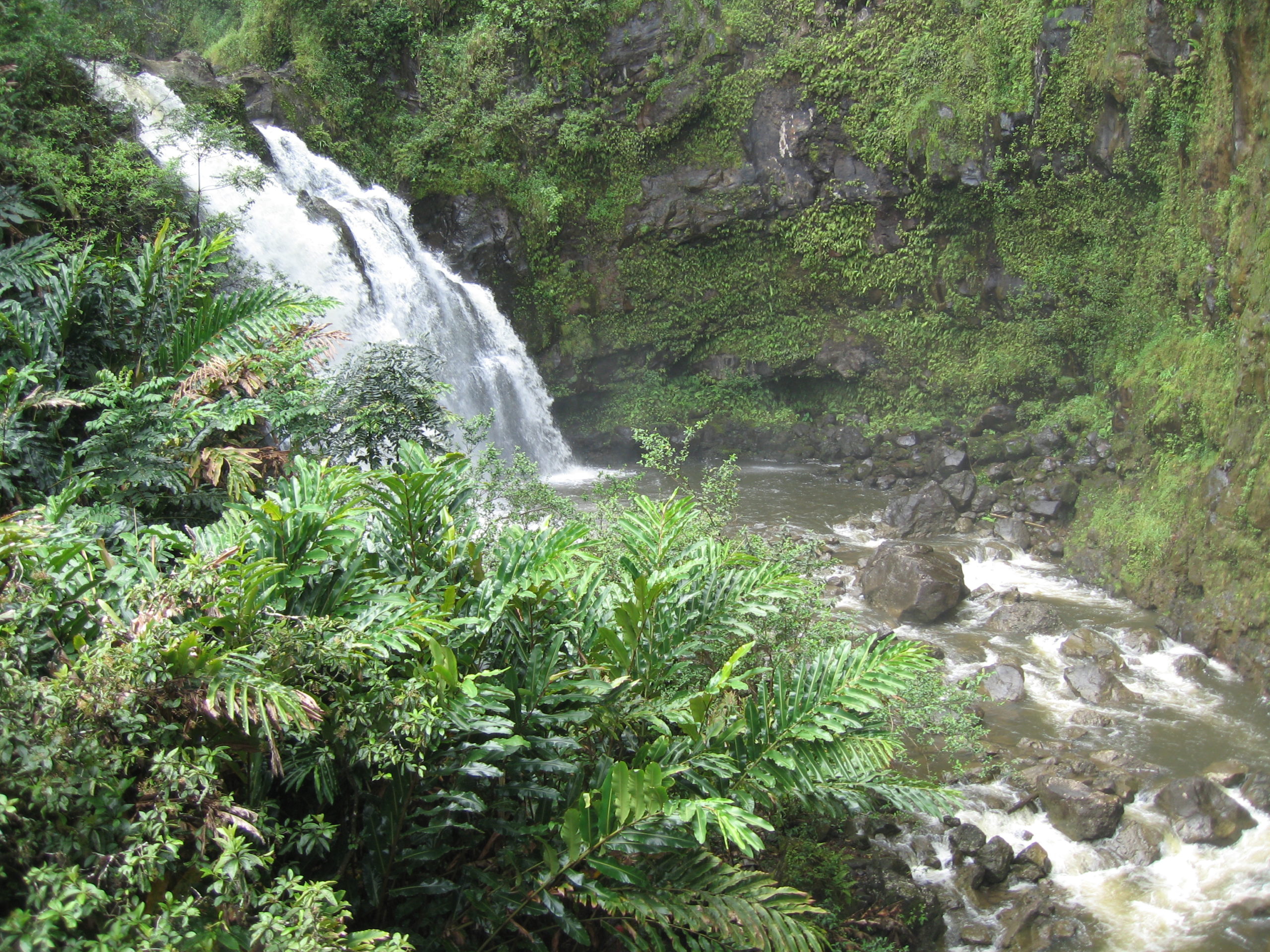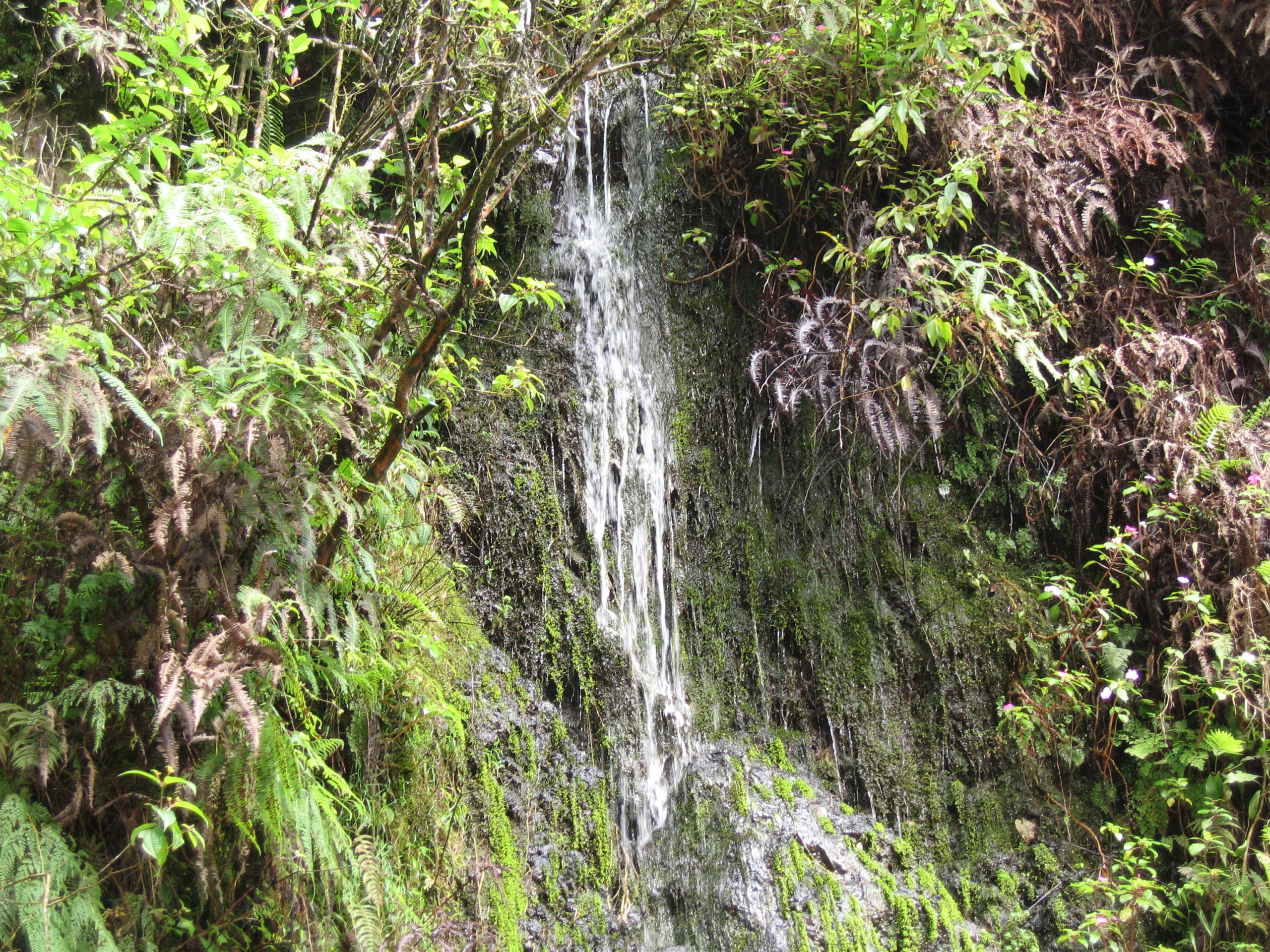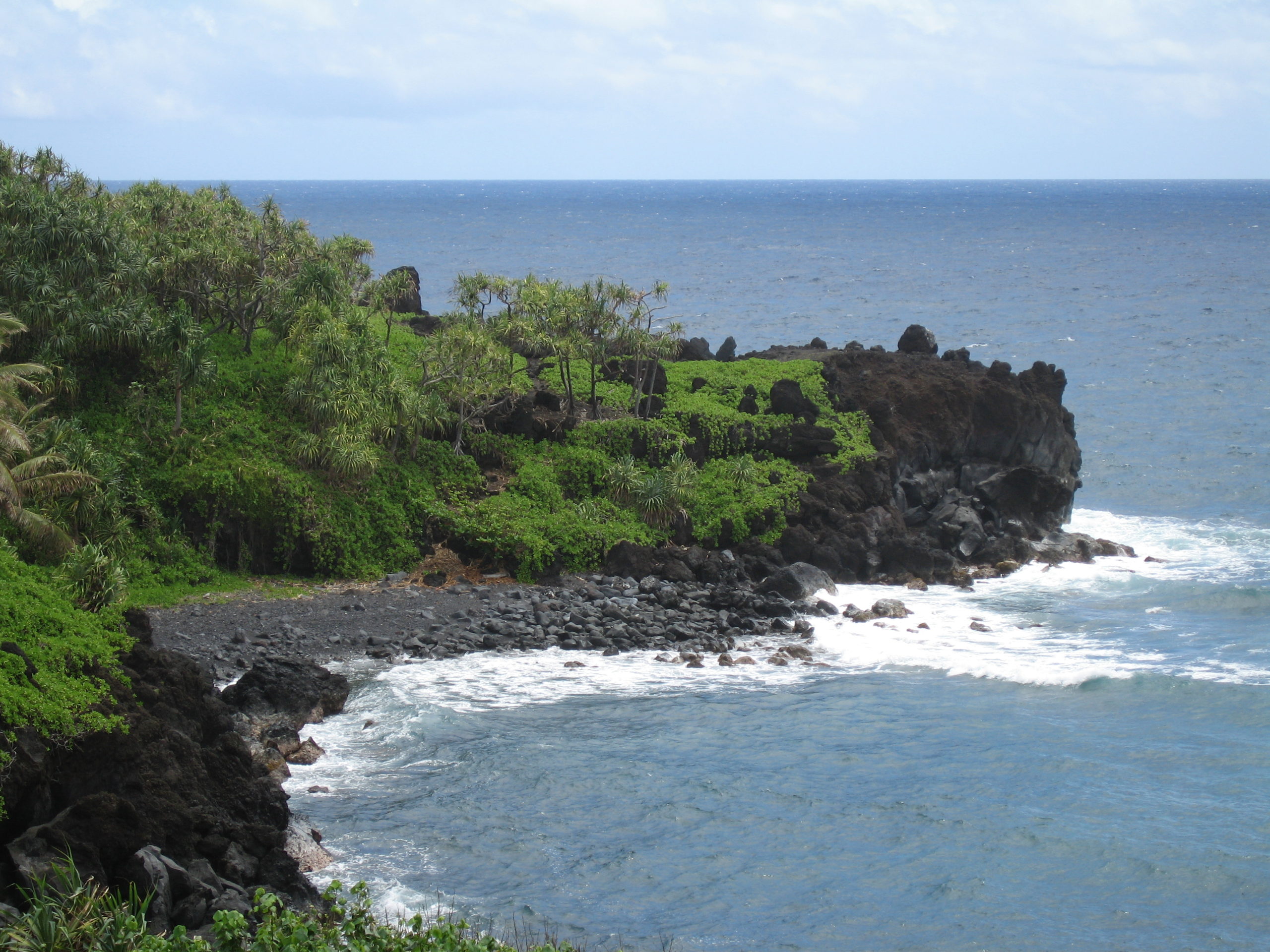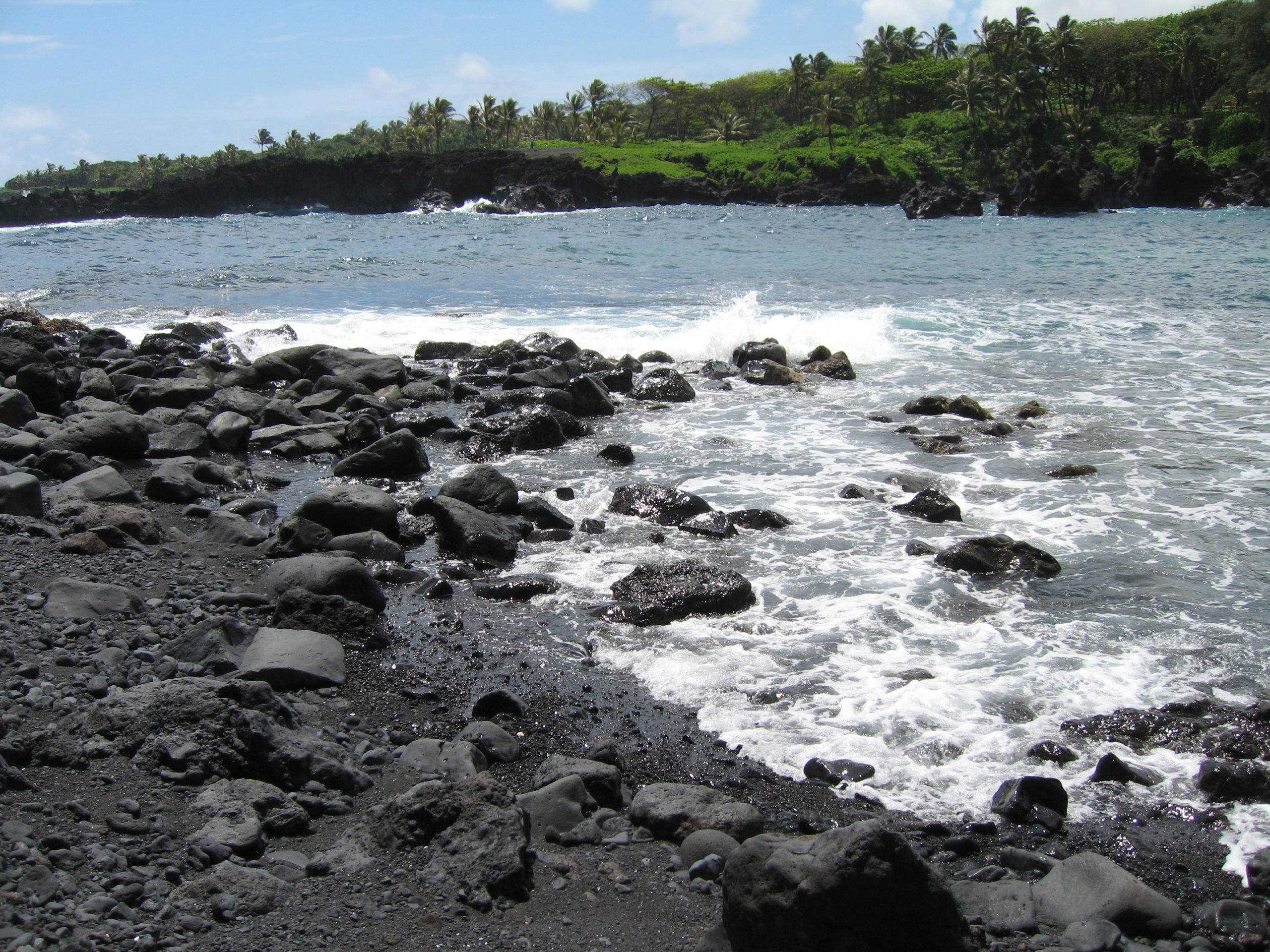 Kaanapali / Lahaina
Our next trip back to Maui was for our first babymoon. Yep, that is correct. A "Babymoon" is the trip that you take before you have your kid! It's like a honeymoon, but for pregnancies. Get It? Got It? Good.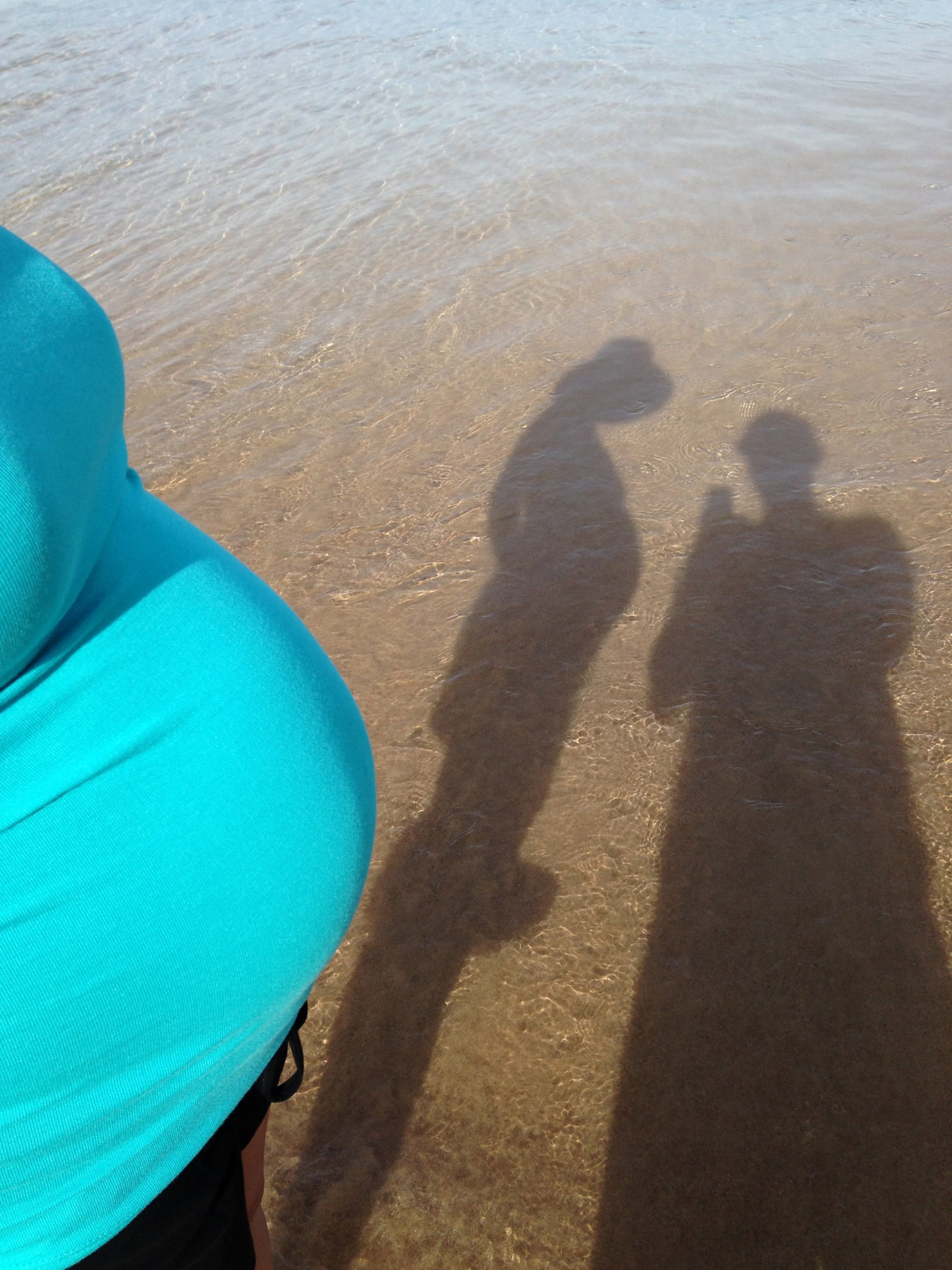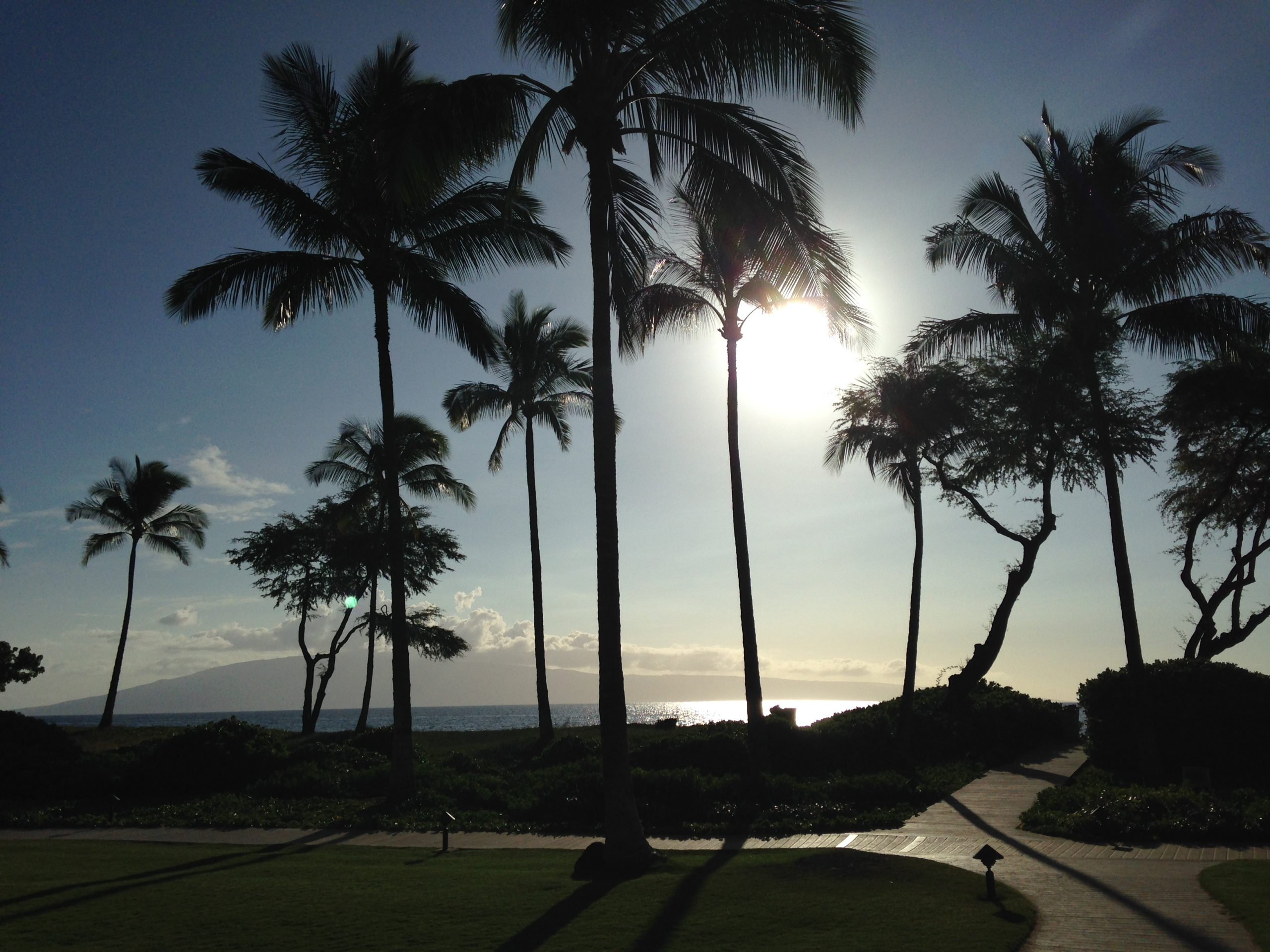 On our first go around to Maui we actually stayed at the Marriott as well for a night, which was right in the main Lahaina area where the rest of the hotels are. We got lucky, b/c they had just renovated and the rooms were super modern! On our second trip back, we decided this time around to stay at the Westin Ka'anapali Villas! This is hands down our favorite place to stay when we are in Maui. We loved it so much that we have considered getting the time share over there! We've actually stayed there now twice, the first time in 2013, and then again in 2015. Starwood preferred folks, make sure you ask about upgrades as well!
There two parts to the hotel, the North and South, each with its own pool area. The property also sits right on the beach so you have quick direct access to all the beach time you want. You can rent umbrellas there as well for a small fee and just lounge the whole day! As you can see from the photo below, theres also ample grass for you and the family to run around in. Another great thing about the Westin Villas, is that they have BBQ pits everywhere throughout the premises. Since it's also used as a timeshare resort, a lot of families will stay here for a couple weeks and bring in their own food for dinner. If you stay there, make sure you BBQ one of the nights!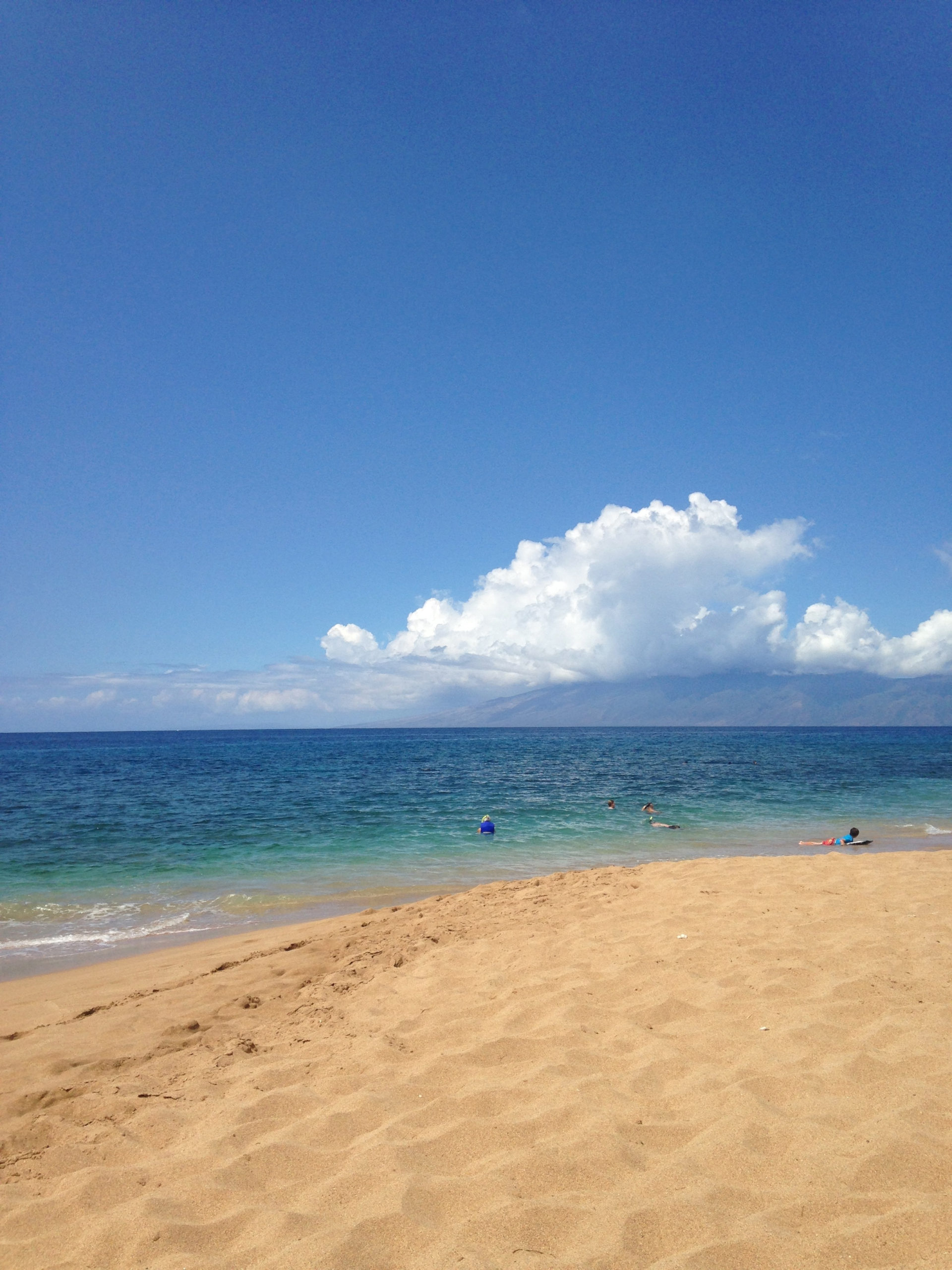 The best thing about staying in this area is that it's pretty central to everything. I'd say its like the "peninsula" for all you Bay Area people! Ka'anapali and Lahaina are neighboring cities and really close to each other so I kind of treat it all the same! The food around Ka'anapali & Lahaina is AMAZING. You can also hop in the car and head out to Kapalua or Wailea and its not too far.
Here's a short list of all of the places that we went to eat around this area! (along with pics!)
Leodas – If you are a fan of banana cream pie, (everyone knows I am) then GO HERE! The pies are amazing here and the breakfast is also pretty delicious. You really can't go wrong here. We actually stopped by here a few times on our way to beaches and other places to visit and grabbed some pies togo as well!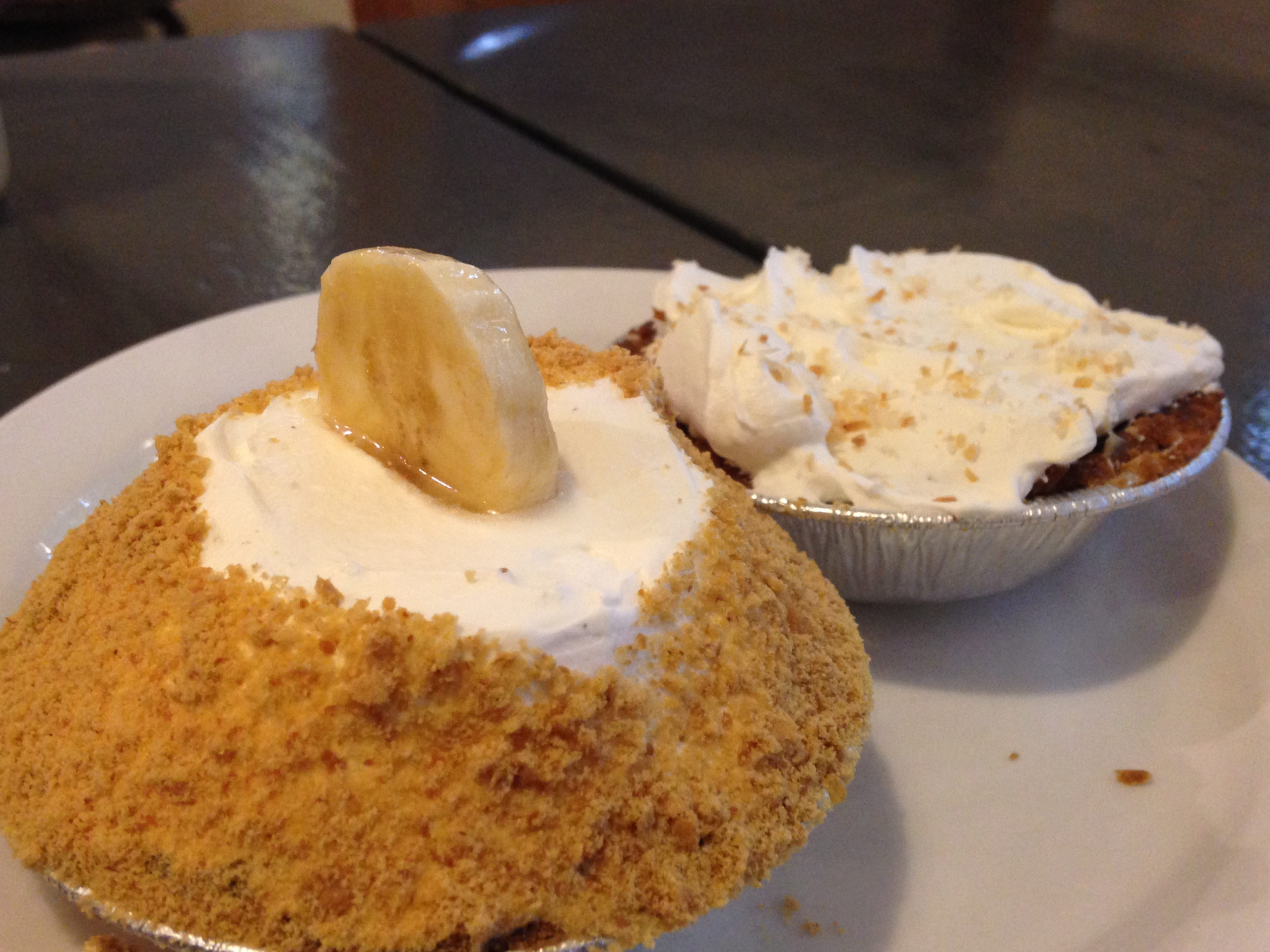 Gazebos – Three words, Mac Nut Pancakes! This place is pretty much the goto spot in Ka'anapali and you will ALWAYS find a line here. It's actually part of a the hotel called Napili Shores and you wouldn't really expect it to be there and also be so darn popular given the outside appearance and everything. Don't get me wrong, I'm not saying anything bad about the hotel, I'm just saying looks can be deceiving! Few things at this place that we would highly recommend. I already stated the Macadamia Nut Pancakes, but also try the fried rice and their omelettes! Oh and make sure that you get the coconut syrup as well! Another MUST GO destination when going to Maui.
Note to friends: Yes, you guessed it, order togo! Avoid the insane lines that are pretty much always there and just call ahead and go pick up the food. It's actually better, we think, since you can then just take the food back to your hotel and chill out by the pool or beach and eat your delicious breakfast!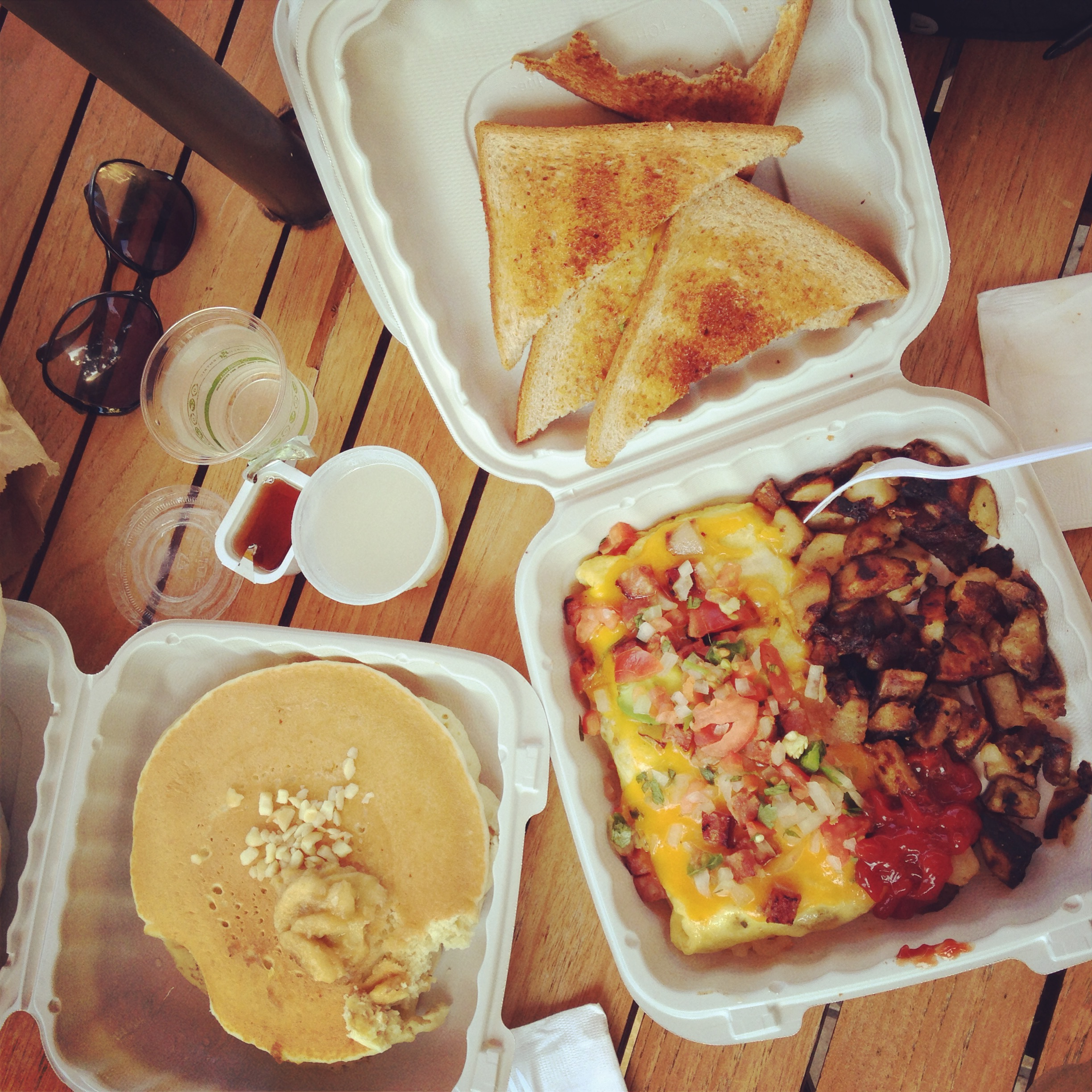 Lahaina Grill – If you are up for a nice dinner out on the town, there's no better place to go than to Lahaina Grill. A slightly upscale restaurant where the service is impeccable and the food is delicious. The whole ambiance from when you walk in to when you leave is top notch. We went there to celebrate our "babymoon" and even got a little gift from them, which we thought was terrific marketing for the restaurant! (you see it works!). Make sure you call in ahead and make reservations though if you do go there!
Star Noodle – Already missing good ole Asian food already while out in paradise? Fear not my friends! Head over to Star Noodle and get your grub on at one of the trendiest spots on the island. The location of the restaurant is around all of these office buildings so one would never guess that a restaurant could be there, but it's actually a really nice place atop a nice little hill. Very peaceful!
We really liked their Ramen there and, given that our son is on a Ramen only diet these days, we just had to go there multiple times! haha! All the dishes there are REALLY good though and you can't go wrong with anything there either. They do have this long table in the middle of the restaurant where you essentially sit family style with strangers so if you are just going with you and your sig other, get ready to dine with strangers!
Note to friends: You gotta make reservations here as well! One trick however is to go right when they are about to open (5pm for dinner) and typically they will be able to seat you if you get there early enough!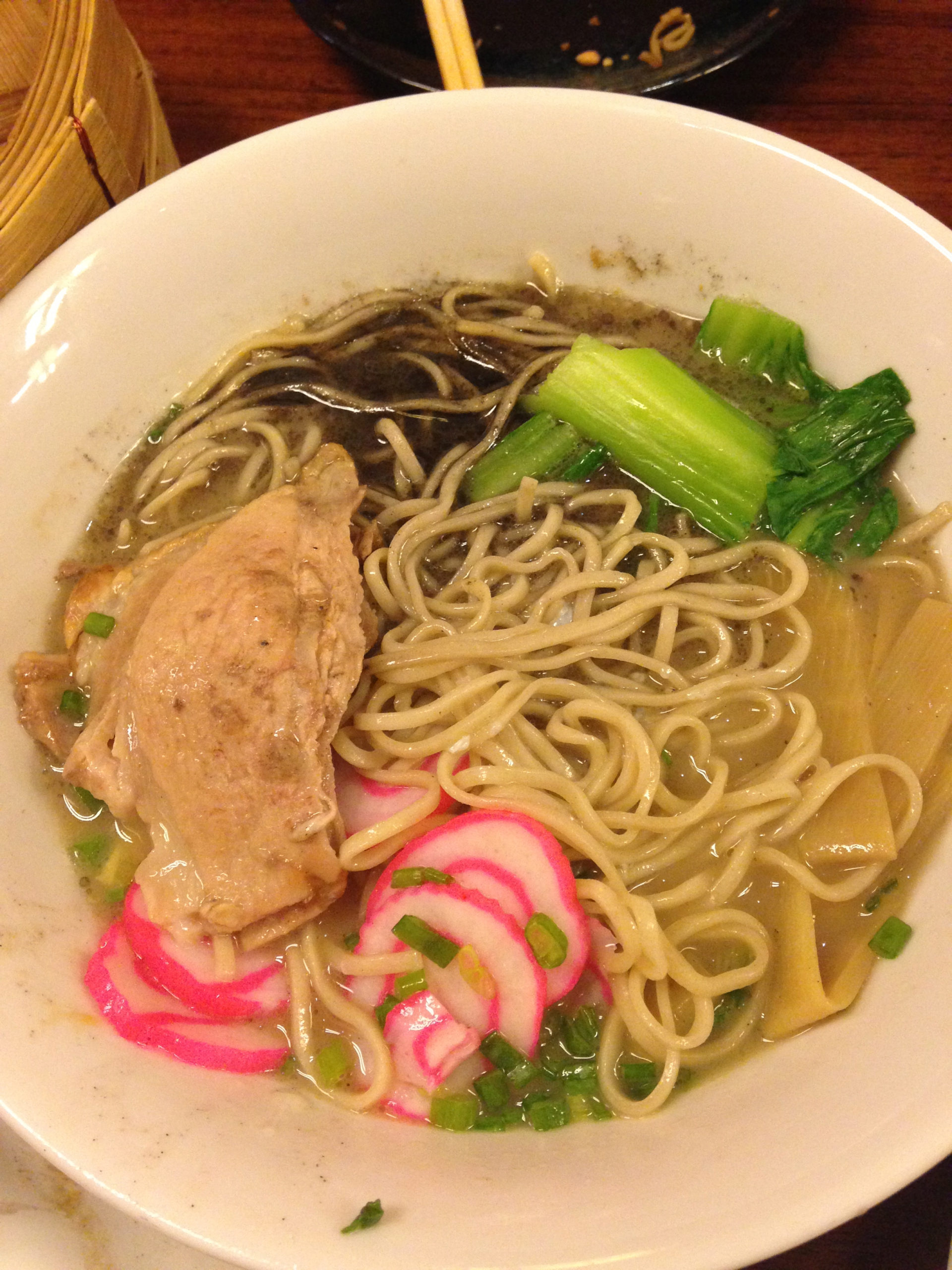 OK, so thats about it for the food places that are "must-go", there's obviously a lot more places to eat out there so make sure you venture out on your own as well and enjoy the beautiful scenery. At the Villas, they actually have shuttles that go from Ka'anapali to Lahaina about every 30 minutes and it will take you right into the main area of Lahaina, where there are a number of small shops and even a Mall!
Make sure you go check out downtown Lahaina (Front Street) and do some shopping while you are there! Plenty of boutique shops and little snack places for you to go. There's also a little park there where all the fishing boats go out every day with a massive Banyan Tree. (There are some odd folks out there though so be warned!) One in particular that we love going back to is the shaved ice place right by the Lahaina Grill.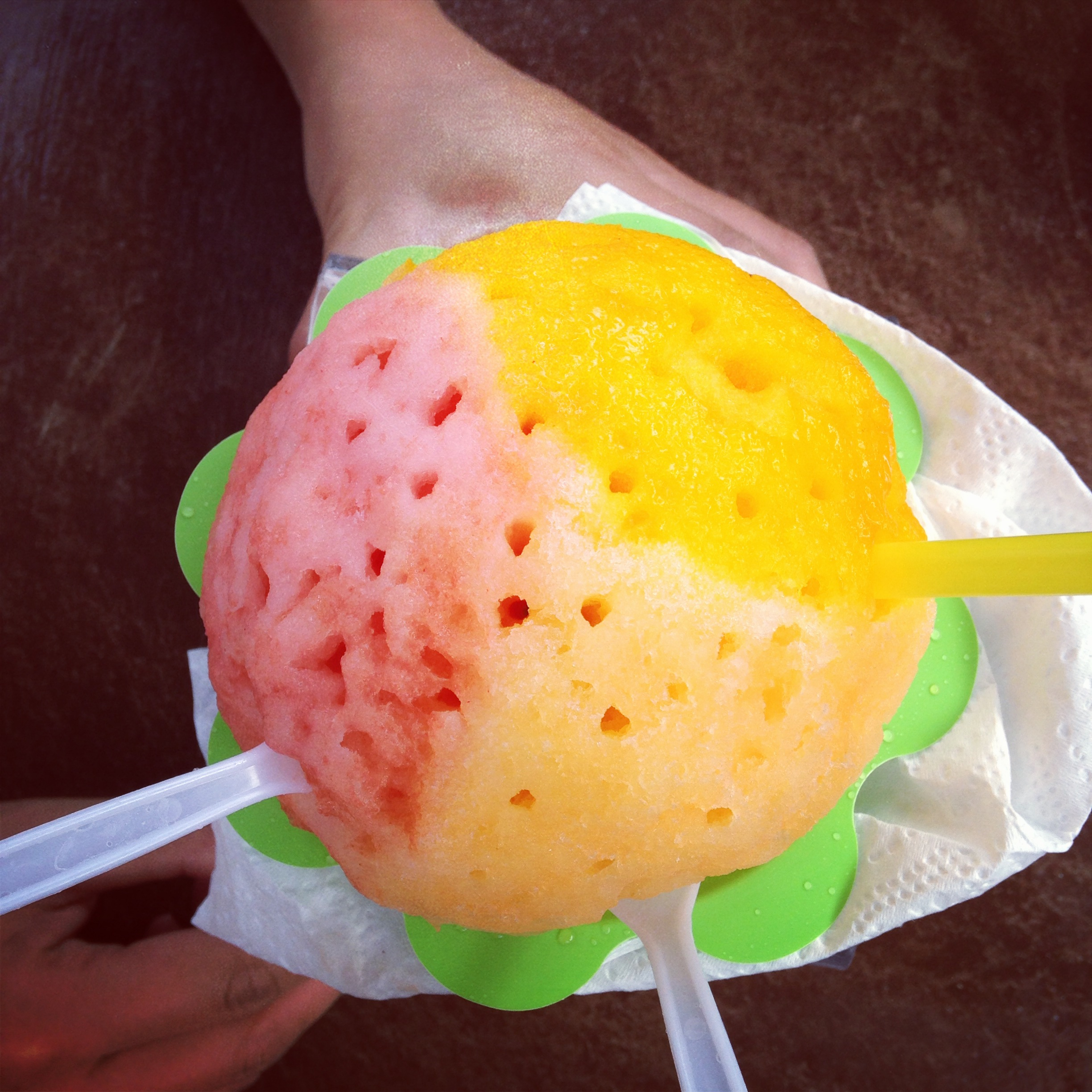 So like I said, this is our favorite area on the island. It's got a little bit of everything for what you would want on a vacation. Awesome beaches, tons of restaurants and shopping, and easy location to just about everything! You can't go wrong!
Wailea
Ahhh Wailea, our second favorite area on the island. We've been told it's a bit more of the "foo-foo" area on the island where most of the wealthy folks live. We actually came here on our first trip out here since Winfield and Lety actually got married at the Grand Wailea Hotel!
Grand Wailea – It's one of the staples here in Wailea and definitely worth checking out. It's a bit "older" of a hotel now so less of our style, but nonetheless amazing. We never got the opportunity to stay here in the resort but walked through much of it. (leave your comment about this hotel if you would like!)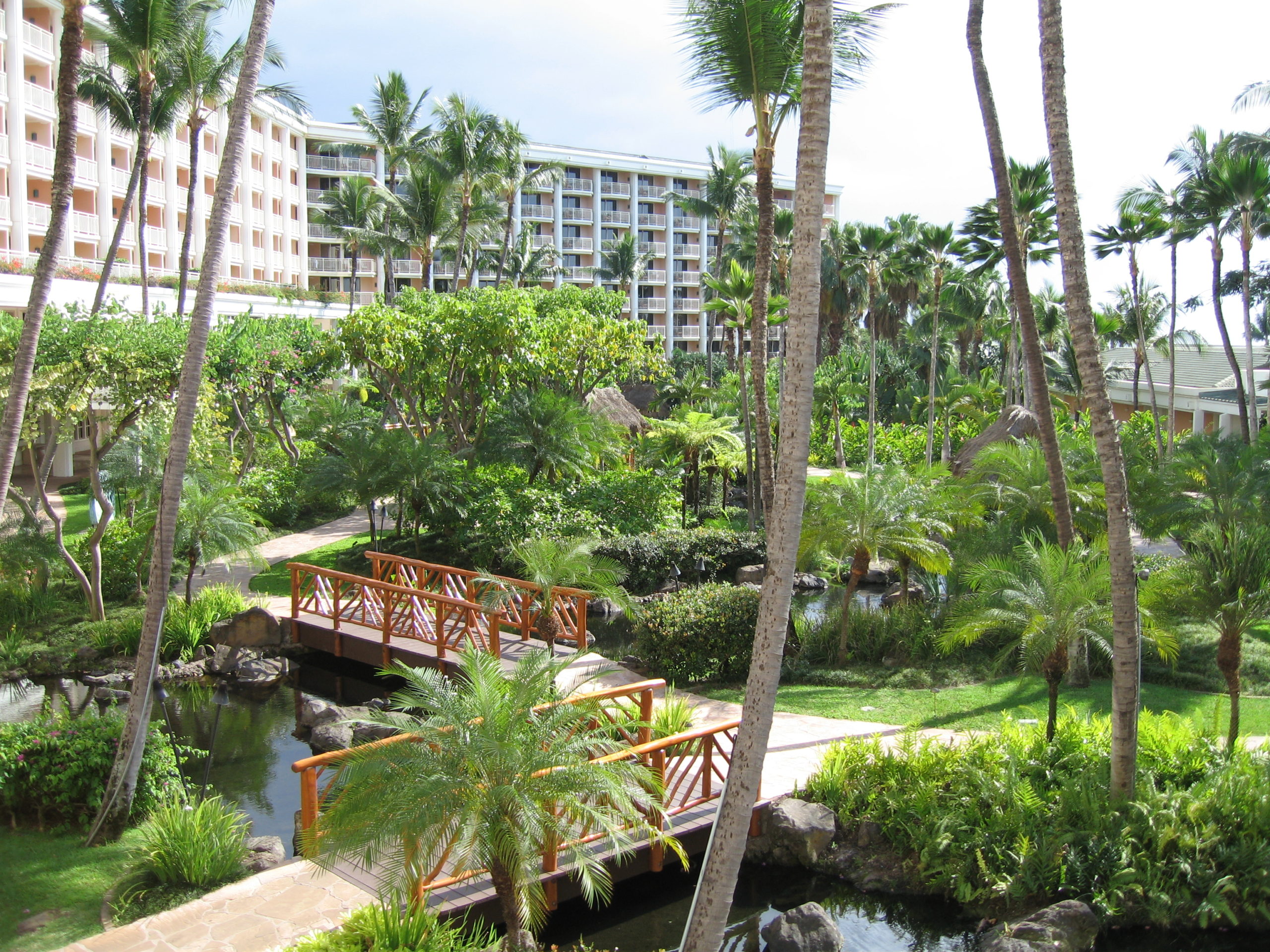 Fairmont Kea Lani – On our third trip back to Maui, we actually came out here for two reasons! One for my good friend James and Michelle's wedding and two, for our second babymoon! We decided the third time around to stay at both Wailea as well as the Westin Villas. In Wailea, since our friends were getting married at the Fairmont, we decided to get in on the fun and rent out one of the villas there! You'll understand when you have kids, that having a laundry machine as well as a kitchen can go a long way when traveling! We really liked the villas and the hotel was really nice! Definitely worth staying here!
It even had its own little dipping pool all to yourself! Check it out!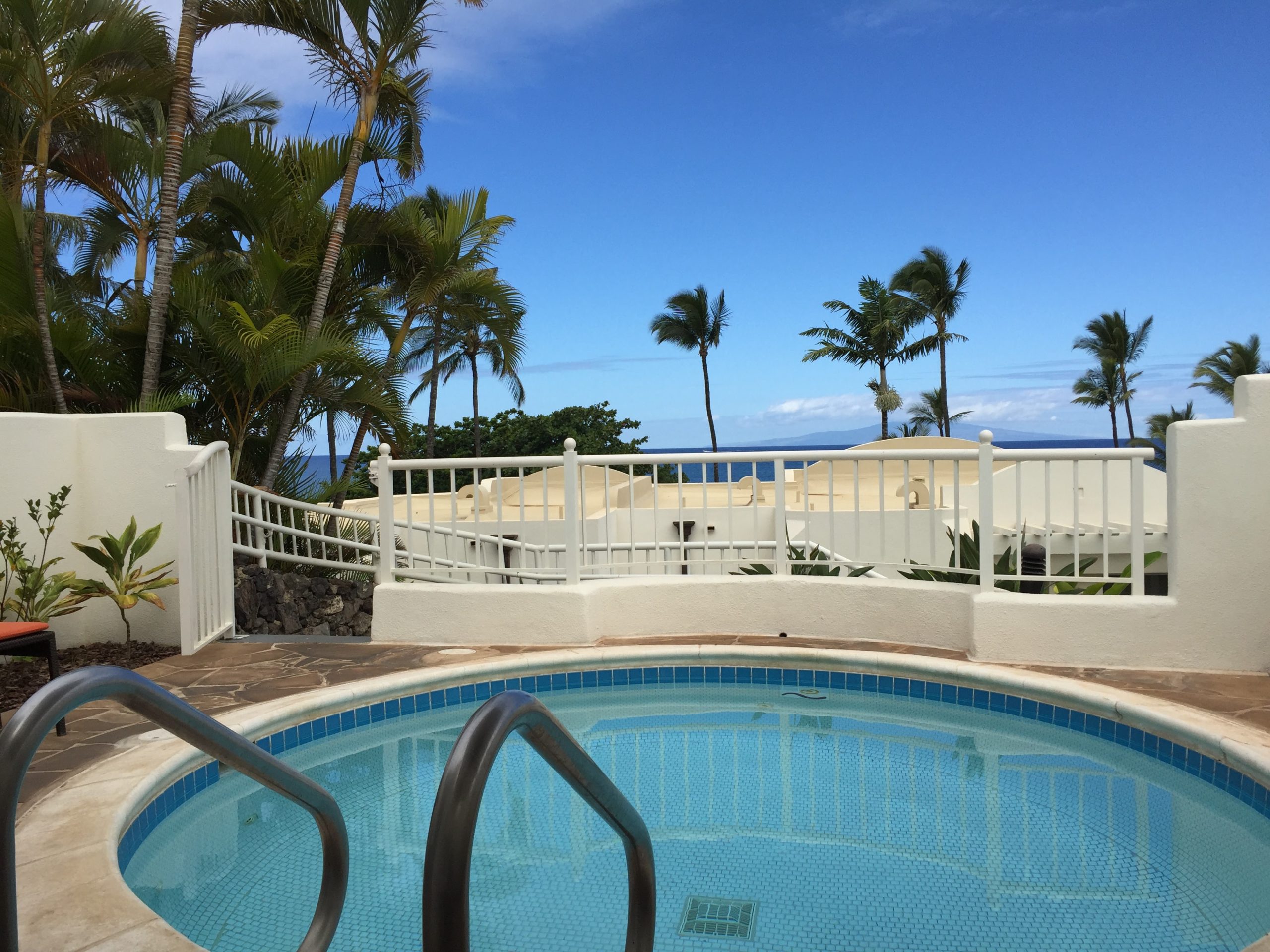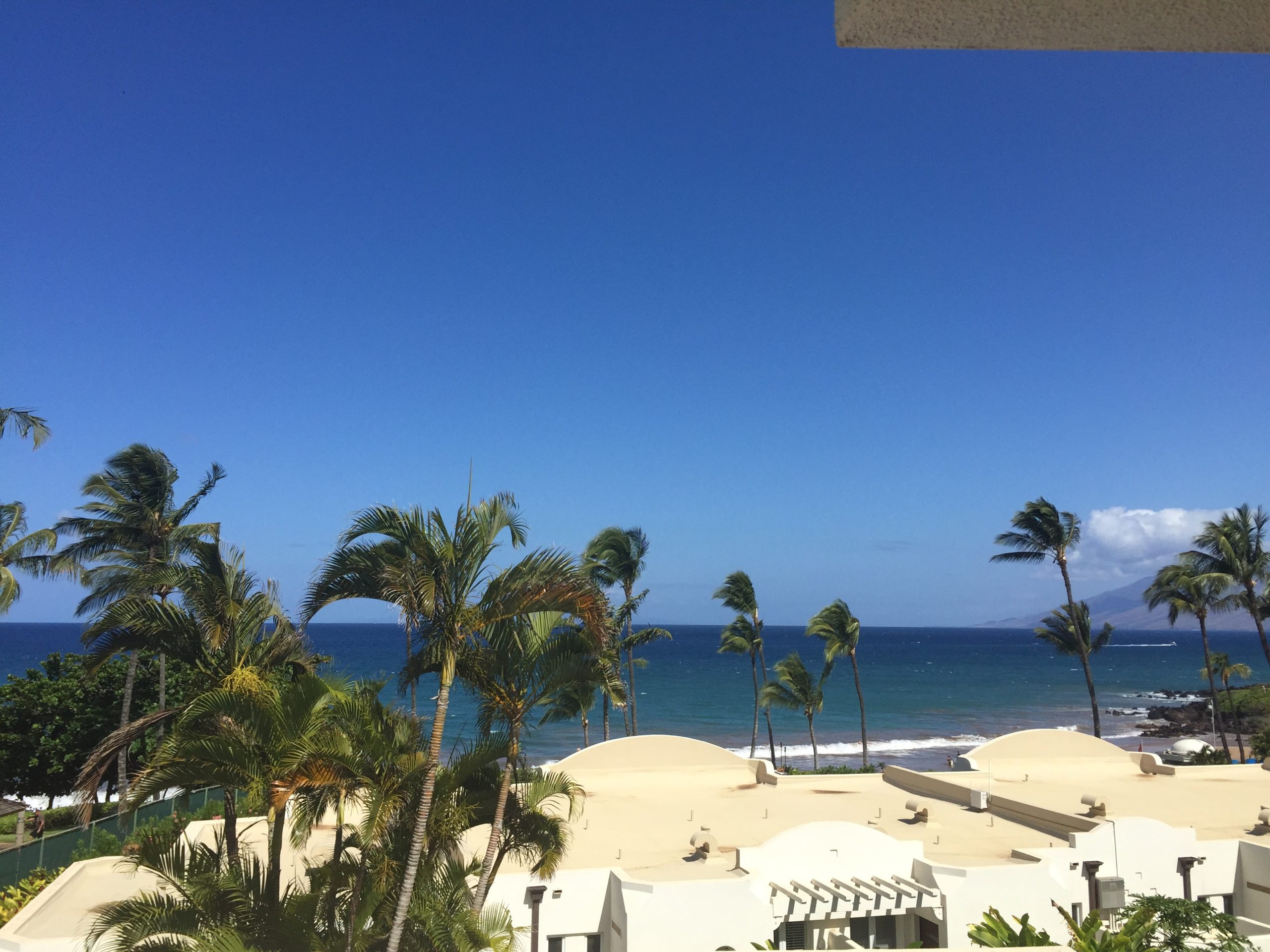 (view from the room)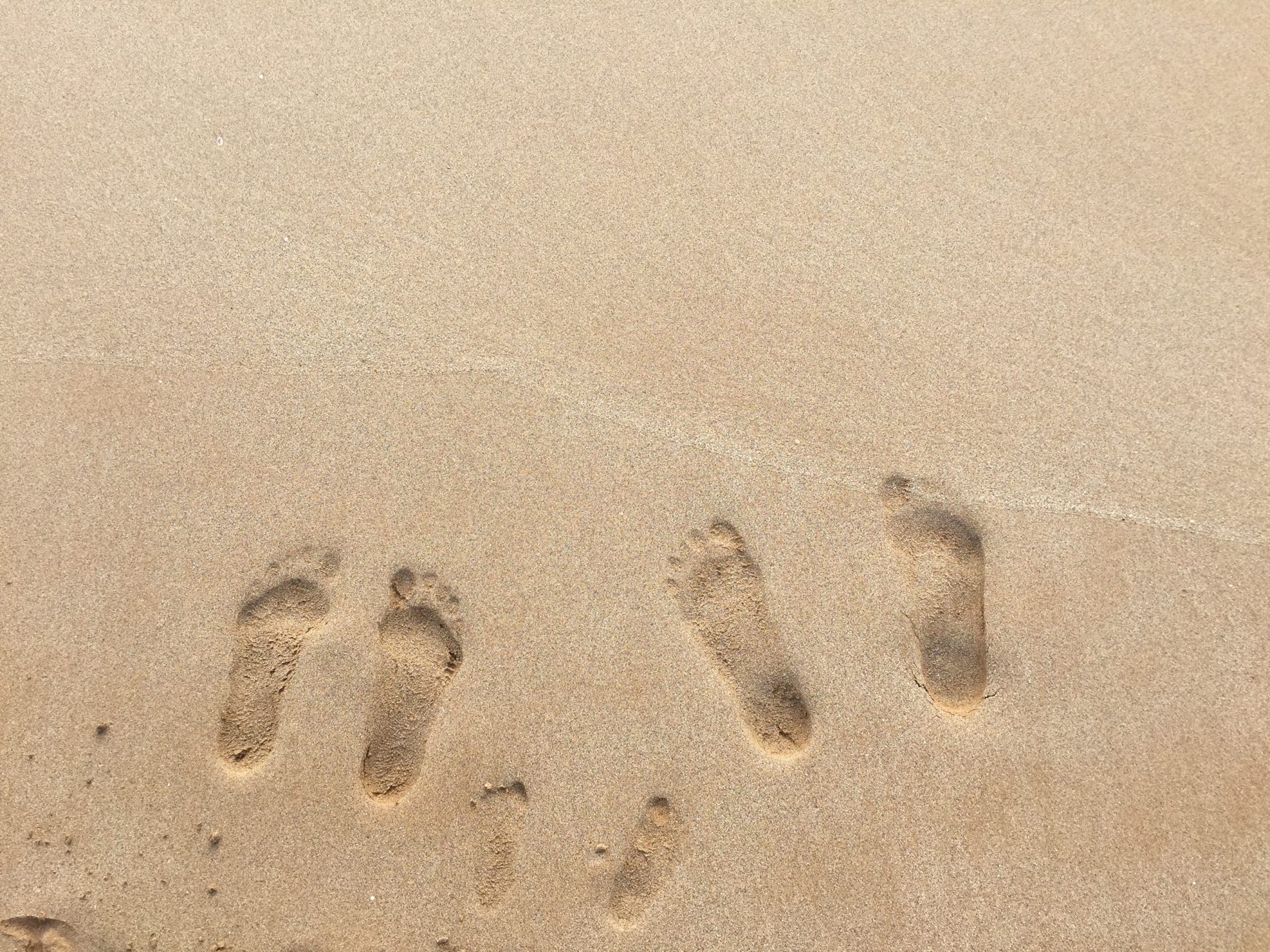 Footprints in the sand… (before #4 arrived!)
While in Wailea, a couple friends and I were also able to get a round of golf in! We played at the Emerald Course in Wailea and must say that it was one of the nicest courses I have ever played! We got lucky that day too b/c it wasn't too hot as there was early morning cloud cover! Check it out below!
Emerald Course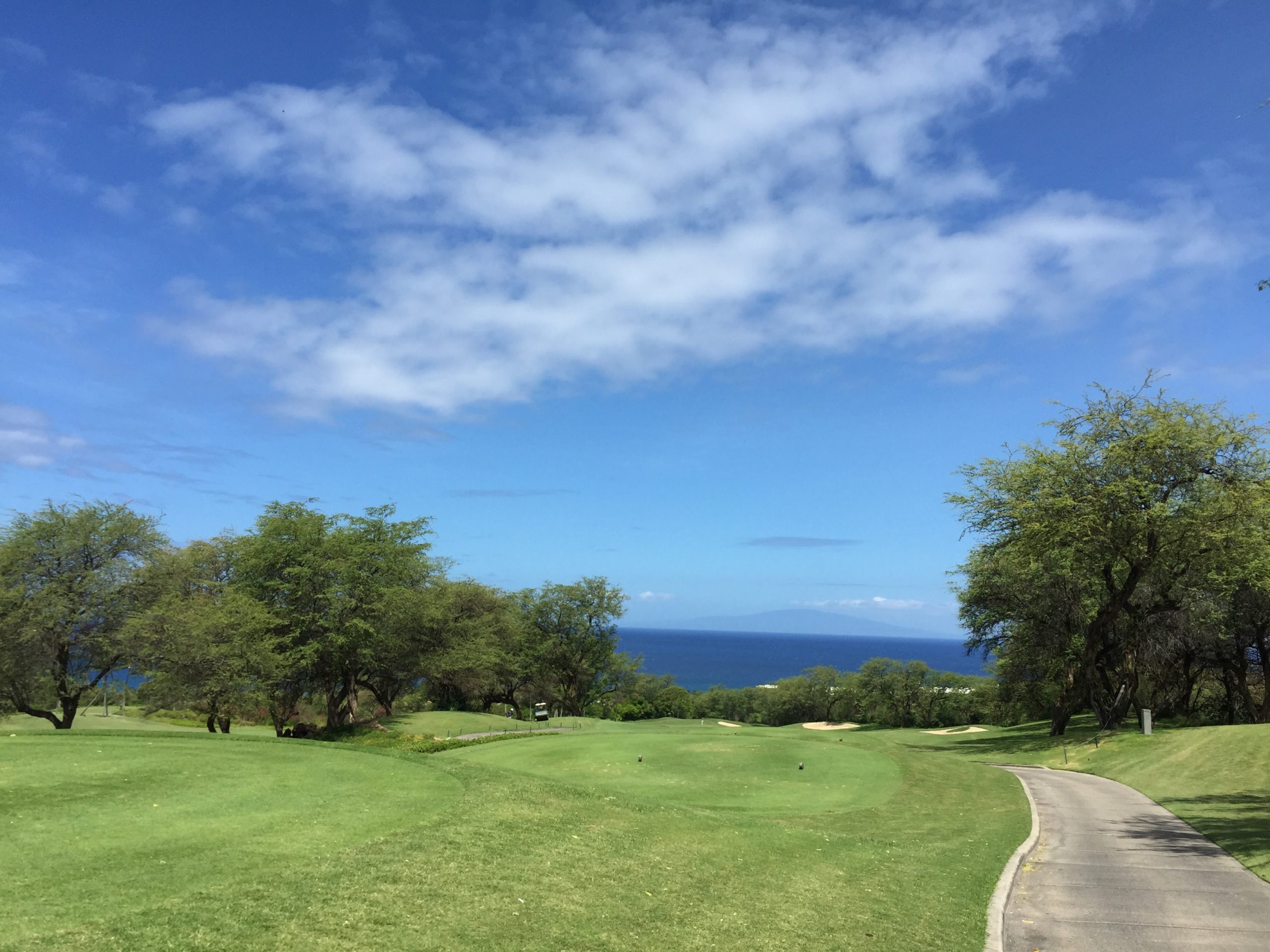 Paia
During our third trip to Maui, we decided to do family photos to have some keepsake for the trip. This took us to a smaller town called Paia where we decided to spend the day at. Early AM, we headed out for about a 30 minute drive and headed to Paia to meet our photographer from Anna Kim Photography! (the photo you see as the main featured image was taken by them) . We decided to head to one of the nearby beaches in Paia and do our session there! We loved it! We'll definitely head back there to check out more of the area next time! Our photographer had mentioned that since we were out there that we should check out Mama's Fish House, a really well known restaurant as well on the island.
Mamas Fish House – WOW, that about sums it up. The restaurant is located near a cliff like area and sits right on the beach. It's an amazing location with just a picturesque setting and all that you can ask for in a nice restaurant. (see the view below from our table)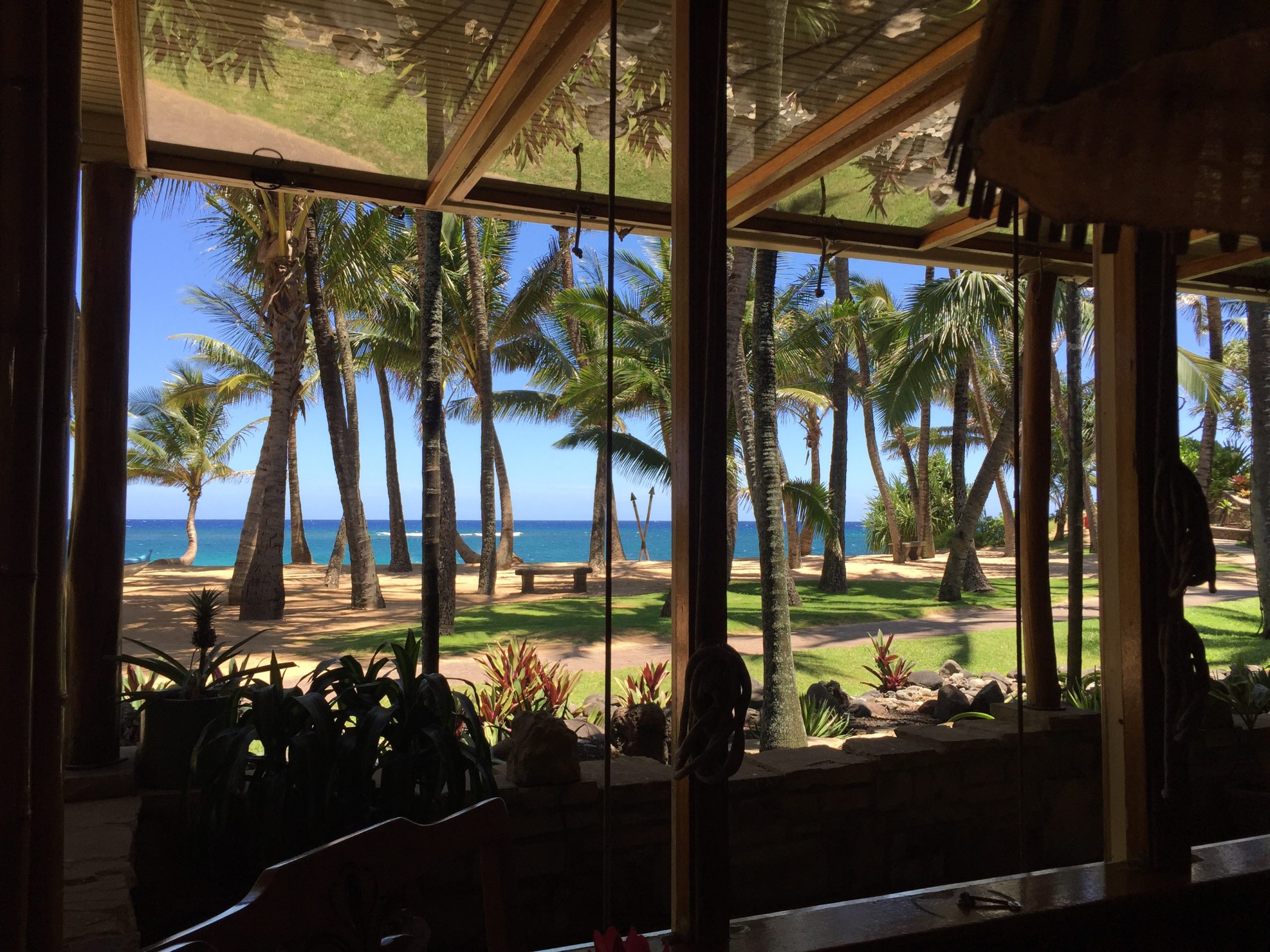 We decided to order a bunch of food, but loved every single dish! One of the more well known dishes is the Mac nut crusted Mahi Mahi stuffed with Lobster. We also got the lobster quac dip! All delicious!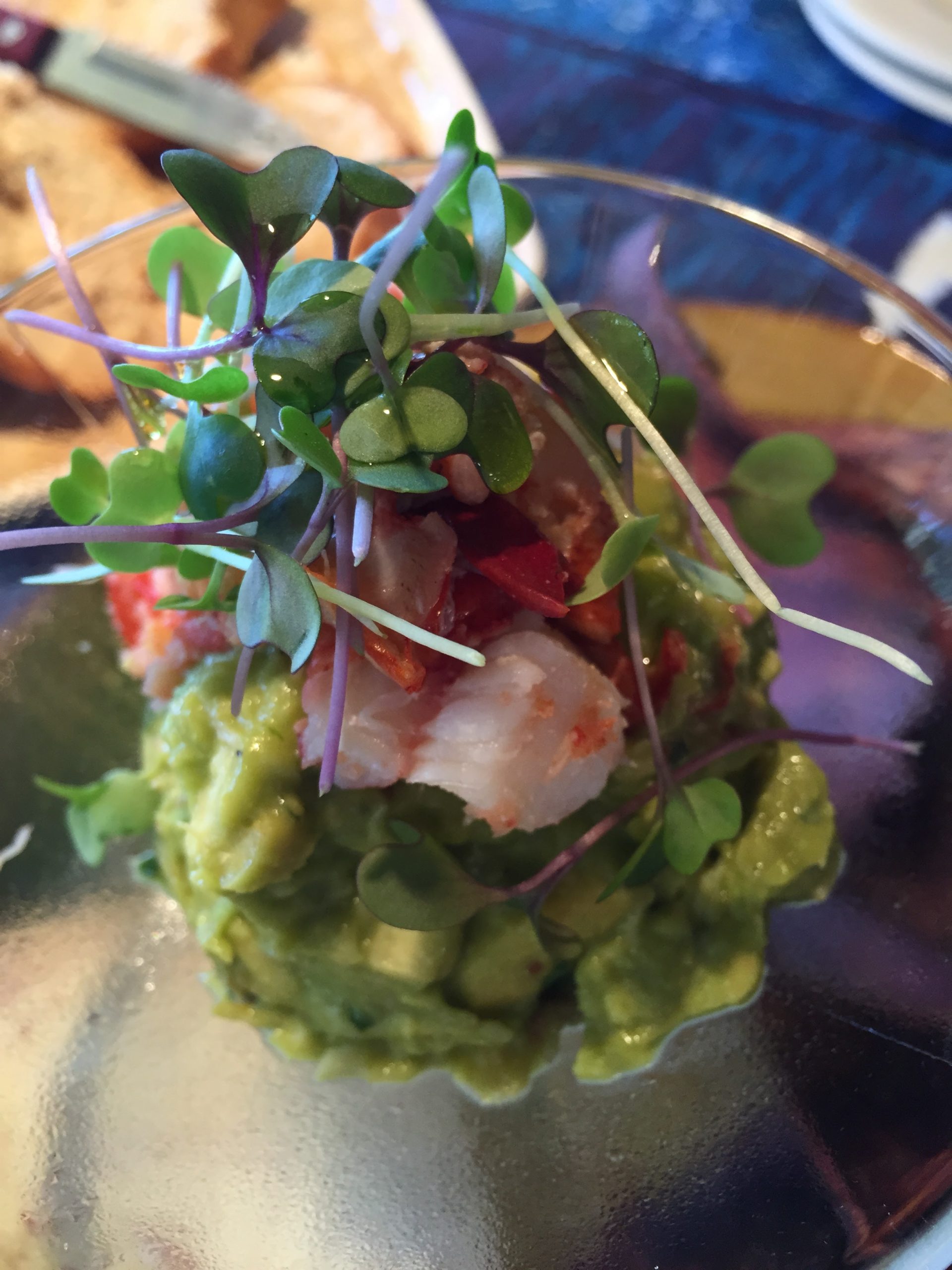 I highly recommend spending an afternoon out there and checking out Mama's Fish House as well! Be ready to spend a pretty penny though, the restaurant is not cheap! But sooo worth it 🙂
OK, well that's about it for now, I'm sure I will keep adding to this list as we continue to vacation out in Maui, but hope that this post will be useful for you! I really do hope that all of you enjoy and love Maui as much as we do as it really is our favorite island! One day I hope that we'll be able to take an extended stay there and just enjoy ourselves!
Aloha!
Hawaii
Maui